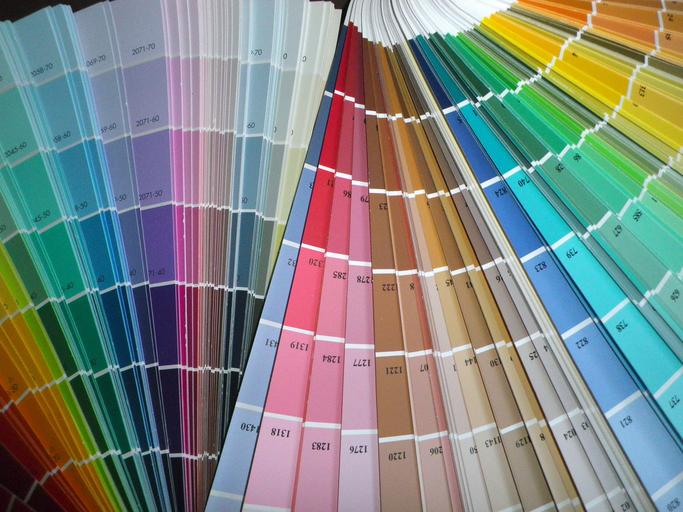 Many people are intimidated by the thought of choosing paint color. Have you ever walked into a room and automatically felt warm and cozy? Or walked into a room and felt uncomfortable? Color is psychological and can change our mood, our personality, our behavior and can even change our eating habits. So to give you more confidence and help you through the process, here are some things to consider before making that crucial decision.
Start with figuring out what mood you want to create. Is it a relaxing sensation for a bathroom, or an energetic feel for a workout space? Maybe you wish for stimulating conversation in a dining room or just want to have one neutral color throughout the entire home because you never want to paint again.  Either way, mood is important.   Clicking through decorating websites like Pinterest can help, as can looking through decorating magazines or books.
Next you'll want to find an inspiration piece to help you accomplish the mood. It can be anything – a rug, a painting, a pillow, or even a favorite piece of clothing. The inspiration should be something you find interesting or that gives you a certain feeling when you see it.
Pay attention to lighting. Natural daylight shows the truest color. Fluorescent bulbs cast a cool or blue tone and incandescent lights emit a more warm or yellow hue. You might be surprised at how much a paint color can change throughout the day. A suggestion would be to paint a large piece of cardboard with your new color choice. Place it on different walls at different times of the day. This way you'll know how it looks morning, noon and night.
Don't forget about paint finishes. There are many different sheens/finishes and each one looks quite different even in the exact same color. Usually, but not always, you'll paint the trim, baseboards and crown moldings with high gloss. It emphasizes them by reflecting light and is easy to clean. A semi-gloss finish is slightly duller and looks great on doors, cabinets and furniture because it's more forgiving with imperfect wood yet still wipeable. Satin finishes also look nice on cabinets and doors but tones down any accentuation. Eggshell or flat finishes are usually applied to walls and ceilings to hide blemishes but is the most difficult to clean.
Once you find the color you like, don't choose more than three colors per room. More than that can make a room look busy. This includes the ceiling and trim colors. Many people forget about the ceiling and decide white is the only way to go. It's not. Decorators and builders alike are painting walls and ceilings the same color. If the color is dark, cut the color by 50% for the ceiling. Remember light colors make a room seem larger and darker colors make the room seem cozier. If you want something completely stylish and unique, paint the walls a neutral color and go with something on the opposite side of the color wheel for the ceiling.
Lastly, if you are unsure of your decision, choose a small area that isn't seen too often like a half bath or an accent wall in a secondary bedroom. If you choose something that isn't what you expected, it won't be as overwhelming or difficult to paint over.
Paint is the least expensive way to make a large impact in a room. Don't be afraid to step out of your comfort zone. It can always be painted again.